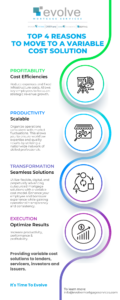 Each institution has its unique set of challenges and opportunities caused by the relentless shifting of the mortgage industry.  Evolve Mortgage Services provides customer-centric, comprehensive solutions to quickly adapt and help clients thrive in any market.
Evolve's state-of-the-art technologies and services cover every element of the lending lifecycle, from SigniaDocuments' digital document creation, origination support and loan underwriting, to eClosing services, closed loan due diligence, and TPR securitization. Designed and refined by customers over the past 20 years, our lender support services and technology platforms allow you to optimize results for every transaction.
Our clients utilize our flexible and perpetually advancing outsourced mortgage solutions with a variable cost structure all uniquely backed with an insurance wrapper provided by Lloyd's of London to achieve success.
Get started today!