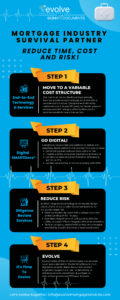 FIGHT OR FLIGHT?  That's the question many lenders are asking today.  Evolve Mortgage Services says FIGHT with all your might – we've got this! 
We have the people, process, platform and proven custom solutions that help our clients keep fighting the good fight in today's volatile mortgage market.  We help you find an innovative and variable cost solution that helps your business keep moving forward whilst staying productive and more importantly, profitable!
Evolve is your mortgage industry survival partner that helps you remain competitive and productive in a market with tightening margins, dwindling products and a digital-savvy consumer base.  Evolve's state-of-the-art technologies and services cover every element of the lending lifecycle and each component is flexible to meet the growing demands and ever-changing industry regulations we face every day.
From SigniaDocuments' digital document creation, origination support and loan underwriting, to eClosing services, closed loan due diligence, and TPR securitization. Designed and refined by customers over the past 20 years, our lender support services and technology platforms allow you to optimize results for every transaction.
We are so confident in our results, that we back every single one with an insurance wrapper provided by Lloyd's of London to achieve success.  What are you waiting for?  Let's fight the good fight and evolve together.
Get started today!